This contains information on replacing our incline shingle roofs.  Bookmark this page as the Board will continue to update this page about our roof project.
 
Sign up on our HOA email list to keep informed on the latest about our roof project.  Click here to sign up
Missed Our Roof Project Townhall Meetings?
Watch the recorded video:
 


www.youtube.com/watch?v=CpSJjywVdjY


– Roof Project Overview: Starts at 1:47 in video
– Roof Budget & Financing: Starts at 33:11 in video
– Q&A session: Starts at 1:09:00 in video
 
Why Is It Urgent That We Replace Our Shingle Roofs?
Watch a short video from an RSJ homeowner who is a senior-level general contractor at a large construction firm and has roofed over 250 buildings. He has walked on our townhome and stack buildings to view the current condition of our roofs.
"If you would go up and look at these roofs, there would be absolutely no doubt in anybody's mind of the urgency of repairing these roofs. They look like Ruffle potato chips that somebody walked on. It is a disaster. Of over 300 buildings that I have walked and supervised and repaired, I can only remember [one roof] that was in worse condition than our buildings."
– RSJ homeowner and General Contractor



New!  Roof FAQ "Video Snippets"
Watch short video clips that answer the most common questions about our roof project.



"Why not repair the leaking roofs now and later replace the roofs?"


 
Watch the video answer (less than 2 minutes)
 


"How many 'good' roofs does RSJ have, and are there any good roofs that don't need to be replaced?"


 
Watch the video answer (less than 1 minute)
  


"Why hire an independent construction management company for our roof project?" +


 
Watch the video answer (2 minutes)
Watch the video anwer, part 2 (less than 2 minutes)

+ Ross Construction Management's fee is based on our "base" contract cost with Fontaine.  RCM's fee does NOT include contingency costs – i.e., costs due to hidden wood rot & termite damage and other "surprise" issues.  Thus,

RCM is NOT financially motivated to recommend unnecessary repairs in which they act as our advocate

to ensure a quality roof job.
 
The board obtained competitive bids from three reputable construction management companies – Du Mont Engineering, RCM, Summit Building Consulting – in which RCM was chosen because their fee was the lowest, among other reasons.  View RCM's contract
 
See also "Last HOA Project Without a Construction Project Manager: 2018-19 Paint Project"
 


"What happens if the special assessment vote doesn't pass and the HOA takes out a loan to start the roof project – 10- or 20-year loan – and relies on just our Reserve contributions & savings to pay the loan with no assessment increases? Won't that affect home sales because our reserve savings will sink to a very low level?"



Watch the video answer (less than 2 minutes)
 


"Why didn't the board obtain more competitive bids from other roof contractors? E.g., why don't we get 30 bids?  And why don't we hire a roofer who can complete our project in 12 months?" ++


 
Watch the video answer (less than 2 minutes)

++ An unqualified roofer will "say" they can re-roof all our buildings in 12 months – even when every reputable roofer has told the board that it will take

at least 24 months

to re-roof all 84 of our buildings to still ensure quality work.
 
A roofer who promises to do it in 12 months will likely backtrack by saying it will take longer – AFTER the contract is signed.  OR, if a roofer does commit to 12 months, most likely the roofer

will "staff up" with temporary, unskilled workers, resulting in a poor-quality job

.  (Fontaine's crews & staff are all direct (W2), experienced employees.)

Also, to qualify for CertainTeed's "no dollar limit" warranty (which covers ALL labor, materials, disposal, tear-off costs for 30 years on the shingle and 25 years on workmanship), our HOA must hire a CertainTeed-certified roofer – which further ensures the quality of our roofer – in which Fontaine is certified.  

Only 2% of all roofing contractors are CertainTeed-certified

which eliminates unqualified roofers from bidding on our project because they haven't met CertainTeed's certification and high standards.
 


"How will the homeowner skylights be handled during the roof project for both removing & re-installing them?


 
Watch the video answer (less than 2 minutes)
 
Note:

There is NO charge from Fontaine roofing

–

to the homeowner or to the HOA

– to remove a homeowner-owned skylight in which the Fontaine crew will also clean it and re-install it with new weather-stripping and new screws and neoprene washers – again at no charge to the homeowner or HOA, including installation materials which are also at no charge.

However, if the existing skylight is cracked and requires the homeowner to purchase a replacement skylight,

there will be a charge to the homeowner

to install the new, replacement skylight.



"How will we ensure the workers don't walk on our new roofs and destroy them?"



Watch the video answer (less than 1 minute)
 
"Why hasn't the board provided the competitive bid documents to the homeowners for this roof project?"
 


Watch the video answer (

less than 2 minutes)
 
"How are special assessment payments (and any balance owed) handled during the sale of a home?"
 


Watch the video answer (

less than 1 minute)
 
 

Latest Project Updates
Board Selects Accurate Termite and Pest Control for Fumigation
After considering carefully four competitive bids for termite tenting & fumigation, which will be part of our roof project, the board conducted in-person interviews with the top candidates. And as a result, the Board selected Accurate Termite and Pest Control at our July 26th board meeting.
 
Not only was Accurate the lowest bid, they offer a robust communications plan and support for our homeowners before, during, and after tenting fumigation.  The Board will schedule a resident meeting with Accurate on the fumigation process, including time for Q&A.
 
Announcing our shingle homeowner survey results!
The board thanks everyone who participated in our survey in which homeowners were asked to give their preference on the CertainTeed fire-resistant, asphlat shingle product, and the vast majority preferred the Presidential Shake.
 
(CertainTeed is a well-respected building products manufacturer that's been in business for almost 120 years. Founded in 1904 as General Roofing Manufacturing Company, CertainTeed is North America's leading brand of exterior and interior building products with more than 60 manufacturing facilities throughout the U.S. and Canada.)
 
Here are the results:
116 homeowners participated in the survey (out of 309 homeowners) representing 38% of our homeowners ++
Of the 116 homeowners, 73% chose the Presidential Shake and 27% chose the Presidential TL Shake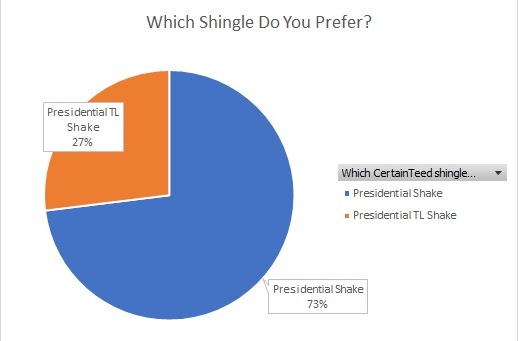 Fontaine selected as our roofing vendor
At our July 5th board meeting, the board unanimously approved to select the roofing bid from Fontaine Weatherproofing company to replace our shingle roofs by using the asphalt shingle product from CertainTeed which is a well-respected building products manufacturer that's been in business for almost 120 years. 

Fontaine is fully licensed & insured and is a certified installer for the CertainTeed line of roofing products. They have been in business for 25 years starting in 1997, and they specialize in multi-family apartment and condominium communities like ours – including many Irvine Co. properties.

Read background & licensing info about Fontaine
 
Ross Construction selected as our project manager
After considering three competitive bids from various construction project management firms, the board chose Ross Construction Management (RCM) as our roof project manager.  RCM successfully oversaw our 7-month street asphalt project in 2021 in which they helped our HOA finish this project on time, within budget, and with quality work.

RCM will help guide the board in selecting our roofing vendor, review the roofing contract for completeness, define our roof project schedule, perform "boots on the roof" inspections of *all* our roofs during each project phase -- tearoff/wood replacement, underlayment/flashing, and final inspections (and random surprise inspections) -- build punch lists, and review of all progress billing and change orders to ensure the work is necessary.  View RCM's contract
 
Question about our roofs?  Submit it using our online form and we'll respond to you once we obtain the answer.